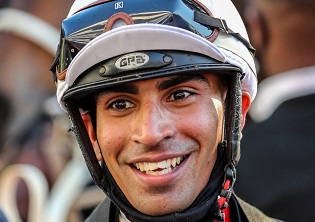 Jack Milner (4Racing)
Trainer Michael Miller has done well with his younger horses this year and he can rack up another victory in Race 2 at Hollywoodbets Greyville today, a Maiden Plate over 1400m on the Polytrack.
He sends out Gimmethegreenlight colt Imperial Order, who has raced twice for two places. On debut he finished a 3.40-length third to Glen Kotzen-trained Imposing who looks well above average. Two winners have come from that form line and in fact, Imposing has franked the form by winning again last time on the Polytrack.
In his second start, Imperial Order ran on nicely to finish a 2.15-length fourth behind Arividicio. Both of his runs were over 1200m at Scottsville and based on his breeding, Imperial Order looks sure to benefit from the additional 200m this time.
In addition, Miller could not have found a better field in which to run his charge. The form of the other runners is decidedly weak and based on comments from their trainers, there does not appear to be too much faith in the four unraced horses.
Serino Moodley rode Imperial Order in his first two races and he is back in the irons on this occasion.
Miller should notch up another winner in Race 4, a Maiden Plate for three-year-old fillies over 1600m, where he sends out Flirty Dancer. The Futura filly should prove popular in the betting exchanges after a promising debut second over 1600m on the Scottsville turf. With the form boosted by a subsequent winner from that race, she will be hard to beat.
Although she looks hard to beat, perhaps for the Pick 6 it could be wise to include Kotzen's
Such A Cracker. She ran a really decent 0.85-length third behind Special Charm over the course and distance last time despite suffering some interference.
Jack Milner's selections
Race 1: 3 Lazy Guy, 2 Arbitrator, 10 Giocatore, 9 Red Magician
Race 2: 7 Imperial Order, 8 Double Silver, 5 Imaginable, 4 Master Of Defense
Race 3: 1 Corsican, 2 L'Ultimo, 3 Ice And Fire, 7Cataleya Summer
Race 4: 2 Flirty Dancer, 4 Such A Cracker, 1 Inhle Intombi, 3 Girl's World
Race 5: 4 Ingakara, 8 My Cherie Amour, 6 Diamonds N Dollars, 3 Fashionigma
Race 6: 6 Feeling Groovy, 5 Rise, 7 Duquesne Whistle, 1 Amberglo Star
Race 7: 3 Princess Santo, 2 Magicallee, 7 Lady Heist, 4 Perfect Appeal
Race 8: 9 Captain Who, 6 Prince Of Taranto, 3 Ralph The Rascal, 4 Spirit Of My Fate
BEST BET
Race 2 No 7 Imperial Order
VALUE BET
Race 7 No 3 Princess Santo
BEST SWINGER
Race 4 2×4
BIPOT
R216
Leg 1: 2, 3, 10
Leg 2: 7
Leg 3: 1, 2, 3
Leg 4: 2, 4
Leg 5: 4, 6, 8
Leg 6: 1, 5, 6, 7
PLACE ACCUMULATOR
R243
Leg 1: 7
Leg 2: 1, 2, 3
Leg 3: 2
Leg 4: 4, 6, 8
Leg 5: 5, 6, 7
Leg 6: 2, 3, 7
Leg 7: 3, 6, 9
PICK 6
R1920
Leg 1: 1, 2, 3, 7
Leg 2: 2, 4
Leg 3: 3, 4, 6, 8
Leg 4: 1, 5, 6, 7, 8
Leg 5: 2, 3, 4, 7
Leg 6: 3, 6, 9
JACKPOT 1
R160
Leg 1: 2, 4
Leg 2: 3, 4, 6, 8
Leg 3: 1, 5, 6, 7, 8
Leg 4: 2, 3, 4, 7
JACKPOT 2
R240
Leg 1: 3, 4, 6, 8
Leg 2: 1, 5, 6, 7, 8
Leg 3: 2, 3, 4, 7
Leg 4: 3, 6, 9